Atrium I at Horizon Office Park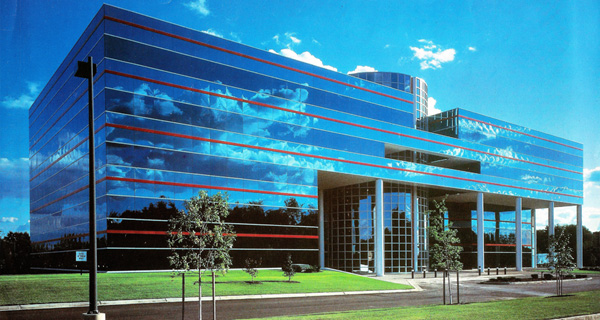 Market
Corporate
Category
Architecture, Interior Design
Statistics
109,000 SF, 5 storey
400 car park on 6.7 acres
Location : Mt Laurel, NJ
Cost :$ 6.2 M
Completion : 1985
Award
1986 24th Annual Concrete Awards – Honorable Mention
Description
First time developer required signature facility to signpost 360 acre park commencement and establish dynamic market presence to reach corporate clients in a crowded market.
This Hi-Tech flagship building, commencing a "Pin Wheel" quad-plex building site pattern, utilizes a glazed white gridded "Drum Shaped" atrium to focus on entry. Nestled in subtle 2-sided silicon glazed bands accented by red and white pin striping and a colonnaded portico to interconnect to Atrium II, this clerestoried atrium connects to stepped office areas, which view red railings and columns accenting semi-circular cantilevered balconies and a concentric layered atrium ceiling.
Glass block walled airlocks, patterned granite floors, polished aluminum plank ceilings, Charcoal carpeted walls, interior tropical garden, "low bounce" composite floor system, individualized V.A.V. H/C system and card key entry access completed facility appointments.
Additional Clients
IBM, Navistar, Travelers, Fidelcore, Margaretten, Clarion Mortgage, Data Three, Whittaker, Teknion, Scanditronics, Continental Title, United Transportation